3D Glasses Automated Machine Vision System for Inspection
19/07/2021
Intelligent 3D glasses are smart wearables with their own OS and embedded micro components like cameras and heads-up displays. They are highly integrated products that require new advanced manufacturing technologies and processes to produce. An intelligent equipment maker (machine builder) accepted a project to build machines, which could automatically inspect and overview the manufacturing and production quality of 3D glasses on the assembly line. The system comprised a machine vision system for inspection with motion control functions.
The customer required a solution that was compact in size and could easily deployed in the field without too much fuss. They wanted something that could replace their current legacy equipment, be easily upgraded with new functions by their own R&D team and would offer long-term component longevity support. Therefore, Advantech suggested offered its IPC-240 + PCE-GIGE4 + PCI-1245L combination IPC system, which delivered all the specifications required for motion and vision control.
Advantech's IPC-240 is an industrial computer system with ultra-compact (140 x 230 x 150 mm) equipped with 7th Gen Core™ i7-7700 CPU that delivers high performance computing. It also offers 4 PCIe/PCI slots for plug in cards and 2 x GigaLAN Ethernet interface to link with back end MES system. With the optional PCE-GIGE4 card installed, it could provide an additional 4 x Giga LAN ports which could link to 4 cameras for production line vision inspection. Also, the PCI-1245L 4-axis stepping and servo motor control universal PCI card can easily link several motor/servo devices to implement full motion control. IPC-240 also provides a dual front access 2.5" HDD tray, so the client can easily maintain/replace HDDs without opening the chassis.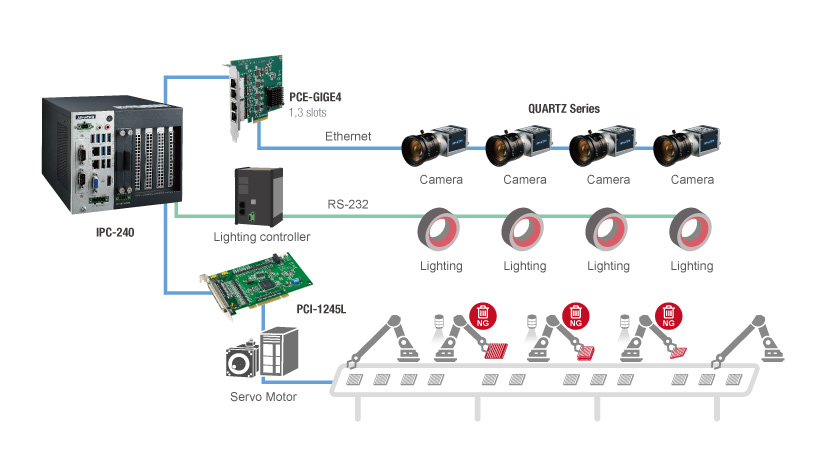 After deployment, the machine vision system for inspection significantly reduced manufacturing errors. The customer reported a 30% improvement in production efficiency and a significant reduction in production line downtime. IPC-240's longevity support meant they did not have to change/replace parts so often and did not have the frequent worry of parts being phased-out. What's more, for expandability the customer could easily upgrade the system, which meant they could focus more on new software development. The new solution also saved them a lot of effort getting certifications ready as the whole system was certified in advance.