Ceway Software and Advantech Collaborate to Assist Machine Builders in Boosting Smart Manufacturing
29/10/2020
I
nterview with Teddy Wu, CEO, Ceway Software; Harry Gao, CTO, Ceway Software
Leveraging decades of experience in industrial services and a thorough understanding of manufacturing challenges, Ceway Software partnered with Advantech to utilize its industrial IoT platform and apps to enhance critical decision-making for manufacturers by integrating all data across the IoT infrastructure.
Since its establishment in 2006, Ceway Technology has operated in the industrial services sector. With the development of industrial IoT, Ceway Software—a subsidiary of Ceway Technology—was created in 2017 with the goal of changing the industry status quo and providing valuable and precise industrial solutions. Since then, the team at Ceway Software has gained a thorough understanding of customer needs through detailed research.
After examining the experience of hundreds of large-, medium-, and small-size factories, Ceway Software has identified key problems that urgently require solutions. As Teddy Wu, CEO of Ceway Software, pointed out, "We've discovered that many problems can be solved with industrial IoT technologies. By adopting these technologies and implementing smart factory processes, management can communicate effectively and optimize operations intelligently."

The fusion of innovative technologies—an industrial IoT platform and industrial apps
The advent of Industry 4.0 has generated many challenges for manufacturers. One of Ceway Software's customers is a renowned metal processing equipment company in China that boasts impressive revenue. This company provides factories with equipment installation, maintenance, and repair services. Equipment availability is essential to factories, as any downtime or malfunctions interrupt production and negatively impact productivity. Thus, prompt repair services are required to ensure continuous operation of production lines.
The China-based company explained that the repair services they provide rely mainly on manual inspections and adjustments, and that the status of CNC machines is manually recorded by onsite operators. The lack of real-time system information and smart processes, as well as manual data collection operations, are the main cause of inefficiency in factories. Thus, the company sought to provide smart services. However, because of the wide variety of metal processing equipment and the fact that most machines run independently, various communication protocols are required. The lack of a standardized communication interface made it difficult to integrate onsite production equipment and obtain data regarding operational status, utilization, production progress, and quality inspection results; as well as implementing preventive maintenance services and minimizing the risk of equipment shutdowns.
To overcome these challenges, Ceway Software partnered with Advantech to provide a real-time monitoring service on CNC machines. This enabled the Chinese company to implement remote equipment management at its factories. Ceway Software utilized Advantech's
ECU-1051 intelligent edge communication gateway
to connect to its
device management perception system (DMPS)
via Advantech's
WISE-EdgeLink software
to enable data acquisition and protocol conversion.The gateway supports various protocols and provides connected equipment with precise real-time information, enabling onsite production equipment to connect, communicate, and interact with each other.
Ceway Software uses Advantech's
WISE-PaaS platform
to upload big data in real time. The data is then analyzed using
WISE-PaaS/DataHub
and transmitted to the
InsightAPM/CNC
industrial app for dashboard visualization to enable functions such as equipment management, real-time monitoring, and error/malfunction notifications.
According to customers, this comprehensive solution facilitates real-time machine status monitoring, multi- site machine management, preventive maintenance, error/malfunction notifications, and timely machine inspections and repairs. Moreover, factory managers can use the solution to obtain an overview of machine operations in order to gain business insights for optimizing processes and improving productivity.
Ceway software combined with Advantech hardware—a co-creation model for a new age
The key to the successful collaboration between Advantech and Ceway Software is comprehensive integration from the edge to the cloud. According to Harry Gao, CTO of Ceway Software, equipment is the lifeblood of factories. However, because of the different equipment types, models, interfaces, and communication protocols, establishing equipment networks for convenient management can be challenging. Ceway Software's
DMPS
achieves this task. By leveraging the
WISE-PaaS data platform
, as well as the integration of Ceway Software's DMPS and Advantech's
InsightAPM/CNC
remote operation and maintenance management solution, excellent value-added services can be provided to equipment manufacturers and factories.
"Ceway Software's strength is its ability to deliver customized solutions aimed at satisfying customer demands, while Advantech excels in network and industrial services. Co-creation with Advantech offers Ceway Software a new strategy for achieving competitive growth in the future," emphasized Gao. As a prominent VIP member of Advantech's WISE-PaaS Alliance, Ceway Software actively participates in the industrial IoT ecosystem built by Advantech in order to generate exciting new business opportunities.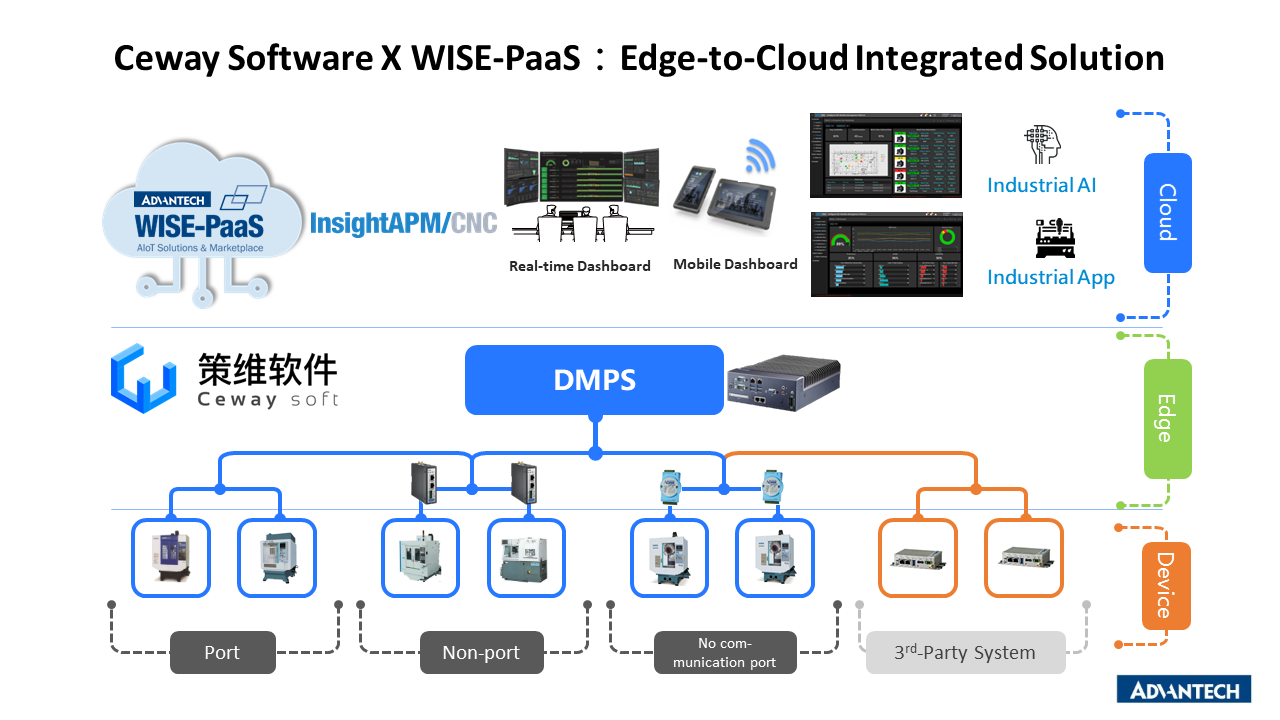 The WISE-PaaS data application platform end-to-cloud architecture provides a comprehensive development environment for data collection, analysis, management, and applications, while promoting interoperability between I.Apps via the WISE-Marketplace and accelerating the development of industrial solutions.